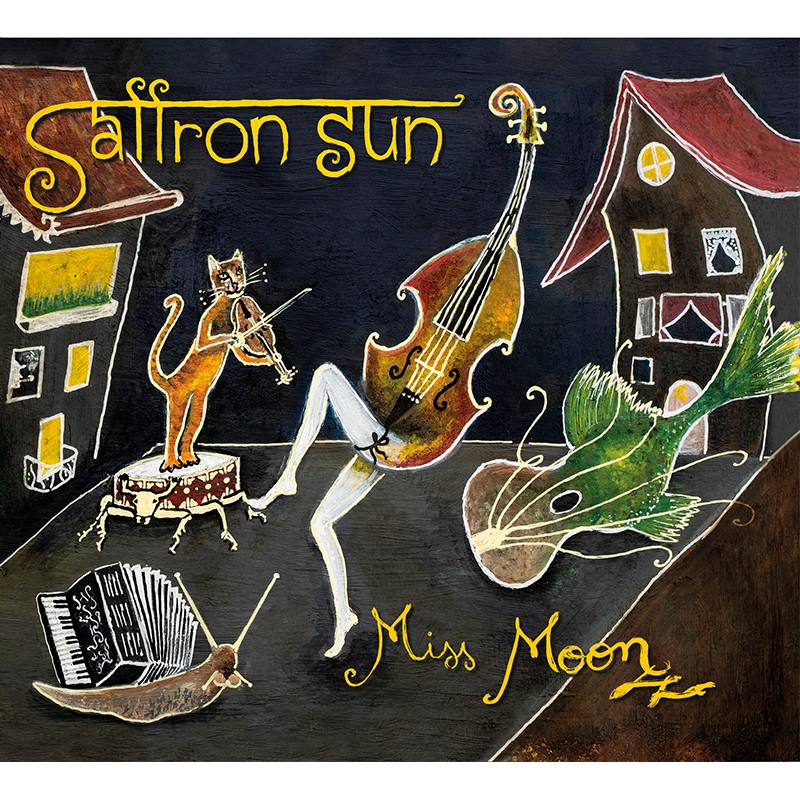  
Saffron Sun - Miss Moon
VAT included
If not specified otherwise: additional shipping costs apply, and delivery usually takes 2 to 3 work days
Saffron Sun - Miss MoonEP - Digifile, 5 Tracks
A short moment of silence, and then a gentle but enchanting voice rings out – from this moment on every room, be it a concert hall, a café or a living room, is spellbound by the world music band Saffron Sun.
The quintet, playing on only acoustic instruments, leaps with ease from lamenting Klezmer to a brisk g<psy swing: the bohemes of modern jazz, vagabonds of oriental folklore, globetrotters of music! Let them carry you away on a journey from the Hot Clubs of Paris to a boisterous Hungarian wedding, through the dimly-lit coffee houses of Istanbul straight into the noisy streets of Delhi.
The delicate and varied singing of the well-traveled and charismatic singer Pernilla narrates in many different languages her magical stories of broad horizons and the many roads to the shimmering South. Eager to experiment, the band switches fluently between nifty arrangements and lively improvisations.
Saffron Sun's debut-EP "Miss Moon" embraces this atmosphere fully and invites the listener to join the table.
The song "Bibijaka" tells, in a mysterious voice, the story of a black-haired beauty who lives in an apple tree, and is artistically framed with bewitching sounds.
The lyrics of the single "Mon Gateau", a Gypsy-Jazz song à la Saffron Sun, are no ordinary songtext: it is the recipe for a coconut cake with white chocolate that, with a little dexterity, can be prepared while listening to the song!
"Inshallah" is an oriental ballad of hope and a deep longing for peace, dedicated to all those who through crisis and war are seperated from loved ones.
In "Voyageur Eternel" - an example of Saffron Sun's diverse compositions – chanson meets modern Jazz. The title translates as "the eternal traveler", and the song deals with the world's most beautiful affliction: that of Fernweh or wanderlust. It is an ode to the love of adventure.
"Miss Moon", the title song of the EP, tells of a mysterious creature who lives in the shadows of the night, only ever seen by cats. And when those cats take out their violins, Miss Moon kicks off her silver shoes to dance a tango over the city's crooked rooftops.
Saffron Sun – a plea for tolerance in a multicultural world, and an anthem to the sun and the road south.
You might also like